雪予報図今後3日間どこに雪があるでしょうか。
我々が提供している山の天気図には、現在の状況、今後の天気、履歴データといったスキーリゾートに関する様々なデータが表示されています。一般的な天気のスタティックマップに加え、状態がベストな雪やスキー場の天気を見つけることができるスマートでインタラクティブな地図も提供しています。
この地図には、今後3日間の雪予報が蓄積されています。画像をクリックし、インタラクティブな雪予報地図や、世界の他の地域を網羅している全ての地図の世界の概観をご覧ください。スキー地図情報のオーバーレイをチェックしてください。そこに含まれているのは:スキーリゾートのウェブカメラ、雪の状態、現在の気象状況と降雪の累積情報です。これを見ることで、雪の状態がベストな所を見つけ、スキー計画の策定に役立てることができます。
今後3日間の雪予報の蓄積。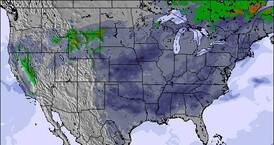 クリックして雪マップを見る
7 Jan 2008
雪の最新ニュース
Ski Villaroger Great skiing in #lesarcs #bluebird #springsnow ... availability next 3 weeks from only £75 pp pn catered

https://t.co/lPEb3uFh1S

133 Alpine runs now open! 44 of which are groomed. 32 XC trails open, 22 of which are to be tracked and set.

Snow-Forecast Just another ski day @Chamonix_France

https://t.co/kWswaSnhWf

• 100% of the mountain is OPEN with all lifts operating from 8:30 am to 4:00 pm; 7 days a week! • Boomers Unite at our Baby Boomers' Clinic tomorrow, Tuesday March 28th! Open to skiers and snowboarders from beginners up to advanced intermediates. • Our next Local Appreciation Day is this Wednesday, March 29th! Lift tickets are just $44 for adults, $27 for seniors and $24 for children. Proof of residency NOT required! • The Horseshoe Bowl SnowCat Shuttle will run as conditions allow. Please inquire at the ticket office for current operating status. • 100% of the Nordic Track was groomed...
世界の最新情報 雪レポート
UPDATED 27 MARCH 2017 The sun shone bright over Austria on Monday 27th March, bringing real spring conditions which are certainly starting to take its toll on the slopes. Some good skiing remains on offer, particularly in the Ischgl and Arlberg regions, but we are also starting to see the first few resorts close for the season, with St Johann, Seefeld and St Wolfgang all shutting down their lifts for summer..... (GBのスキークラブの厚意による)