世界の雪の概要
皆様が最高の雪の状態を見つけられるようにこのページを作りました。Snow-Forecast.comの現在過去未来のデータソースを組み合わせ、更にそれを定期的に更新しています。雪のまとめのページでは、全ての主要なスキーリゾートの情報を月曜日と木曜日に更新しています。世界中に存在する当サイトのレポーターがツイッターで情報を送信すれば、アイボールレポートとしてリアルタイムで更新されます。リゾートピックアップのリストには、新雪が予測され、粉雪が報告されている世界中のスキーリゾートが記載されており、そこには最新の積雪量も載せられています。

SNOW NEWS UPDATED 24 APRIL 2017
INTRODUCTION Monday 24th April saw very few Austrian open, following the last day of skiing for the majority on Sunday 23rd. The weather was largely sunny, and there was some nice skiing on the upper slopes in the Obergurgl region, which is where some of the best conditions remain.
AUSTRIA As the winter season nears its end, only 10/56 of our featured Austrian resorts were open for skiing on Monday 24th April. The open resorts are mainly centred on the Obergurgl region, where good skiing is available at the likes of Pitzal (146/193cm) and Kaunertal (127/194cm). Whilst at Zillertal, conditions also remain good up on the glacier at Hintertux (70/235cm), where they will shortly transition into their summer ski season on the 1st July. The weather for the coming week is a mixture of rain, and snow at higher altitudes. But with many resorts now finished for the season, it seems like there will be limited lift access to any powder.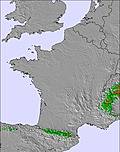 FRANCE Sunny weather continued to dominate the skies for the remainder of open resorts on Monday 24th April. In the Tarentaise region, Val Thorens (90/140cm), Tignes (33/145cm) and Val d'Isere (35/145cm) still have a good amount of lifts spinning, and the skiing is surprisingly good for the time of year. Futher south, Les Deux Alpes (0/200cm) continues of offer some nicely groomed pistes on the glacier, but nearby its sister resort, Alpe d'Huez has now closed. From Tuesday 25th onwards, the forecast is predicting fairly heavy snow for many resorts. Chamonix (0/180cm) could receive up to 70cm by the end of the week.

SWITZERLAND Changeable weather today for our featured resorts in Switzerland. Monday 24th April started off a typical sunny spring day, however heavy cloud and snowfall is forecast to start late in the day. This morning on snow conditions were much as they have been recently, firm in the morning but transforming nicely by midday. The skiing remains great at altitude and things are expected to improve as heavy snow is forecast this week. Zermatt (0/155cm) could see well over one and half metres on snow by Thursday. Engelberg (10/260cm) is also in line for just over one metre of fresh by weeks end. Powder conditions should last into the weekend, and the touring will be excellent well into next week thanks to these late season storms. For those travelling to the Swiss Alps this week, expect cloudy snowy conditions and colder than normal temps. Layer well for changing temps and be aware of the rapidly developing avalanche problem.

ITALY Spring conditions this morning, but winter is expected this afternoon as Italy heads for powder conditions this week. Monday 24th April was a day of changing weather and snow conditions. Although most resorts have closed, those that remain open are in for a treat this week. Moderate to heavy snowfalls are broadly forecast with freezing levels dropping well below 2000m by Thursday. Cervinia (15/190cm) is likely to be the pick of the Italian resorts thanks to its easy access to high altitude terrain. Expect avalanche conditions to quickly change and very cold temps thanks to wind chill.
ANDORRA Skiing has now concluded in Andorra for the 2016/17 winter.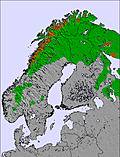 NORWAY/SWEDEN Monday 24th April saw many resorts closed down for the 16/17 winter, making it a missed powder day for some Norwegian resorts. Improving conditions in Hemsedal (50/50cm) thanks to light snowfall over night, moderate snowfalls continued all day. Trysil (65/65cm) also received light snowfall today, with cloud forecast to remain all week. Are (0/70cm) remains open in Sweden, light snow and cloud today made for typical spring skiing today. A steady mix of sun and cloud is expected this week, beyond today there is now significant snowfall in the forecast currently.

GERMANY The limited but good skiing continued in Germany today, Monday 24th April. Only two of our featured resorts remain open in Germany, however the skiing is still great. Garmisch (0/400cm) and Oberstdorf (0/130cm) are expecting some excellent snowfalls this week, powder skiing conditions are now very likely. It has been a tough season for many resorts in Germany, for anyone heading out this week expect the lower areas to look very bare but the upper slopes will deliver some great skiing. Take a low light lense and be prepared for some strong winds at times.
BULGARIA Skiing has now concluded in Bulgaria for the 2016/17 winter.

SCOTLAND Skiing has now concluded in Scotland for the 2016/17 winter.

USA Many resorts, particularly around Colorado and Vermont, are now closed for the winter season. However, great skiing can still be found in the USA, where the season continues for the likes of Timberline (457cm) who received further fresh snow over the weekend. Elsewhere, conditions are looking good in Utah at Snowbird (315cm) at the moment, where slopes are holding well and 7/11 lifts were still spinning on Monday. Any resorts in Colorado that are still open can be hopeful of fresh snow this week. Loveland (155cm) in particular is forecasting around 100cm this week.

CANADA Limited but good skiing continued in Canada today, Monday 24th April. Light snowfalls over the weekend made for excellent fresh snow conditions in Banff and Whistler (355cm) today. The light snow is forecast to continue this week for both resorts, although warm temperatures will make the snow feel heavy.

EUROPEAN WEATHER OUTLOOK Snow wintery conditions are making another late season return to the Alps. Although it is not as rare occurrence as many think, heavy snow this late in the year has sadly caught many resorts shut down. For those resorts which remain open, powder conditions are expected. Most of this week's heavy snowfall will be focused in the broader region of Italy and Austria but snow will fall right along the main Alps range. The high mountain resorts in Germany, France and Switzerland can expected heavy snow right through until Thursday. There is currently now skiing in our featured Pyrenees resorts, although the area will see some light snow this week. In Scandinavia the normal mix of grey and dull skies is forecast this week.

NORTH AMERICAN WEATHER OUTLOOK Further snow is predicted in the USA. Colorado in particular could accumulate around 100cm this week, whilst for open resorts in California, expect a mixture of sun, cloud and rain/snow. In Canada, Alberta is forecast to receive light but steady snowfall this week. In Quebec, temperatures are expecting reach up towards +20C at Monte Saint Anne, and rain is predicted from Wednesday 26th onwards.ed from Wednesday 26th onwards.