スキーSwitzerland
Swiss ski areas closing dates 2022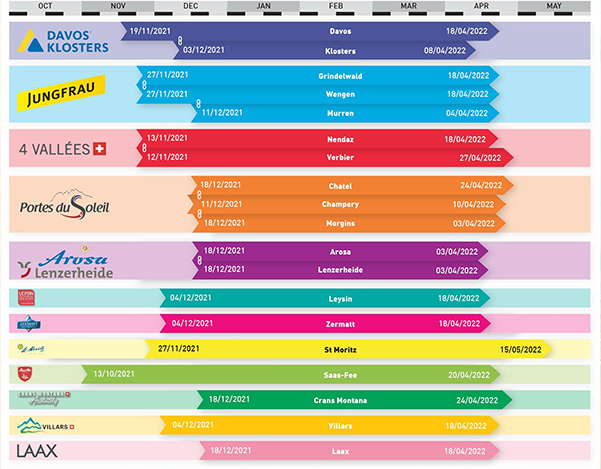 Switzerland:雪の最新の状態の概要
Summary of forecast snowfall and ski conditions for resorts in Switzerland. Fresh snow is forecast at 5 resorts. Powder is reported at 0 resorts and 17 are reporting good piste conditions.
最近の雪の観測レポート Switzerland
天気レーダー観察:

It is snowing heavily in Klewenalp - Stockhütte.

天気レーダー観察:

Heavy snow is falling at altitude in Melchsee-Frutt.

天気レーダー観察:

Snow falling heavily at altitude in Grüsch - Danusa.
Ski resorts in Switzerland from H to K
リゾート

雪の深さ 頂上と麓

ゲレンデ

ゲレンデ外

前回の降雪

次 ;9 ;日間
0–3 | 3–6 | 6–9
雪 (

cm

)
次5 ;日間天気予報
凍結高度 (

m

)
Sun
Mon
Tue
Wed
Thu

Habkern

(1277 m — 1724 m)

中腹の観測所

1500

m

2100

 

m

2200

 

m

2850

 

m

3000

 

m

3400

 

m

Haute Nendaz

(1400 m — 3330 m)

snow report 24日前

中腹の観測所

2365

m

2400

 

m

2450

 

m

2850

 

m

2950

 

m

3300

 

m

Heiden - Grub - Oberegg Appenzellerland

(929 m — 1289 m)

中腹の観測所

1109

m

1750

 

m

2100

 

m

2750

 

m

2800

 

m

3300

 

m

Hemberg - Bächli

(1103 m — 1301 m)

中腹の観測所

1202

m

1800

 

m

2100

 

m

2800

 

m

2800

 

m

3300

 

m

Hoch-Ybrig

(1217 m — 2103 m)

snow report 昨日

中腹の観測所

1660

m

1950

 

m

2150

 

m

2850

 

m

2900

 

m

3300

 

m

Ibergeregg

(1626 m — 1835 m)

snow report 昨日

中腹の観測所

1730

m

1950

 

m

2150

 

m

2850

 

m

2900

 

m

3350

 

m

Interlaken

(1599 m — 2971 m)

snow report 23日前

中腹の観測所

2285

m

2150

 

m

2200

 

m

2850

 

m

3000

 

m

3400

 

m

Jaun

(1219 m — 1858 m)

snow report 昨日

中腹の観測所

1538

m

2250

 

m

2250

 

m

2850

 

m

2900

 

m

3450

 

m

Jaunpass - Boltigen

(987 m — 1974 m)

中腹の観測所

1480

m

2250

 

m

2250

 

m

2850

 

m

2900

 

m

3400

 

m

Jeizinen

(1800 m — 2555 m)

snow report 23日前

中腹の観測所

2178

m

2350

 

m

2350

 

m

2900

 

m

3000

 

m

3350

 

m

Kandersteg

(1199 m — 1960 m)

snow report 昨日

中腹の観測所

1580

m

2250

 

m

2250

 

m

2850

 

m

3050

 

m

3350

 

m

Kerenzerberg - Filzbach

(859 m — 1486 m)

中腹の観測所

1172

m

1950

 

m

2050

 

m

2900

 

m

2900

 

m

3300

 

m

Kiental

(1161 m — 1639 m)

中腹の観測所

1400

m

2200

 

m

2250

 

m

2850

 

m

3000

 

m

3400

 

m

Klewenalp - Stockhütte

(1858 m — 2324 m)

snow report 昨日

中腹の観測所

2091

m

1900

 

m

2150

 

m

2800

 

m

2900

 

m

3350

 

m

Klosters

(1192 m — 2286 m)

snow report 昨日

中腹の観測所

1739

m

2000

 

m

2000

 

m

2900

 

m

3100

 

m

3450

 

m

Kronberg

(1034 m — 1931 m)

中腹の観測所

1482

m

1800

 

m

2100

 

m

2800

 

m

2800

 

m

3300

 

m

Krummenau - Wolzenalp - Toggenburg

(828 m — 1742 m)

中腹の観測所

1285

m

1800

 

m

2100

 

m

2850

 

m

2850

 

m

3300

 

m